Alternative Healing and Spiritual Art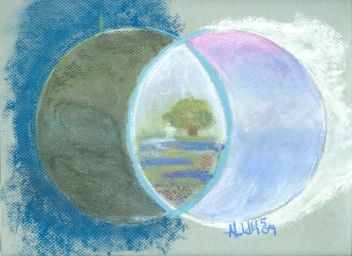 In the Garden of the Heart by Allison L. Williams Hill





Blood Type Food Colors Chart Downloads
Get a Free Food Color Chart!
The material of this web site is about alternative healing presented in many forms. Your consciousness informs you of which alternate healing therapies are appropriate for you.

In-Vesica is the state of being where one address the physical world with resources from the inner world of spirit.


Some were never raised with this ability; either they were not taught about it or learned it in some form through religion.


Religion, by and large, does not allow for individual expression. The inner world of Spirit does.


Our bodies are always changing. A mixture of water and elements, physically, and another story on the sub-atomic level, it can be helped or harmed by our actions that are determined by our choices.


"Your body is your temple" (find the exact quote) may be too strong a statement for some form which they shy away. It is through and with the body that we learn; grow; act; express; feel, and experience. People, all over the world, exist in various levels of ultimate physical development and motor ability.


---
"Ignorance does not prevent us from suffering." Jose Silva, Creator,Silva Mind Control Method
---
We all have consciousness. We use it in varying degrees. How much is used can reveal one's awareness of spirituality. As we live, we are charged through experiences to grow and become the Greater Being.
---
"We are not here to meet our Higher Self. We are here to become it." Toronto Dowsers Newsletter
---

Pursuance of this knowledge gives birth to independent thinking. The thoughts and actions from them embraces each one's individualized presence of God and simultaneously our Oneness.


Standard education fosters conformity, developing workers who are told how to be and do. In this light, it is no wonder why there is a prevailing level of negativity and conditioned limited thinking.


Adulthood offers a chance for people to make new choices, correct their education, and select other experiences.


At In-Vesica, you are offered opportunities to change. You may use the services for pleasure which would be a good place to start for some of you.


You may use them to reprogram to lighten your mind and your heart.


You may use them to fulfill a need that has come into your consciousness.


And you may use the services that help you develop the motivation that puts you in charge of your life. You have power but it may be used to move you by external bidding.
Now use your power to realize your own needs and aspirations.

I studied crafts; art; spiritual art; architecture; metaphysics; nutrition; inventing; and small business development.
The subjects reflect a multi-faceted nature. I use all of them in my life. Some of these skills may be applied to you, your life, and how you want or need to change it.
Sincerely,

Allison Williams Hill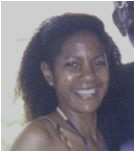 Medium,Psychic, Intuitive Visionary Healer
Cert. Spiritual Healer, Church of Wisdom
Arch. Designer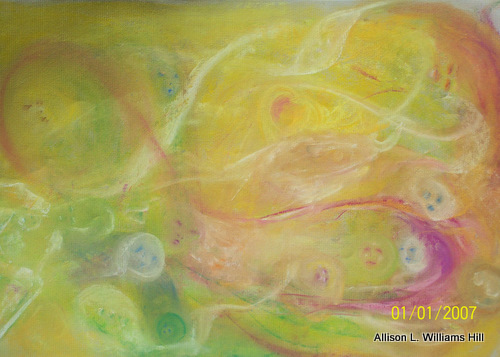 Nature II by Allison L. Williams Hill


Would you like to create art like this? Classes are starting soon.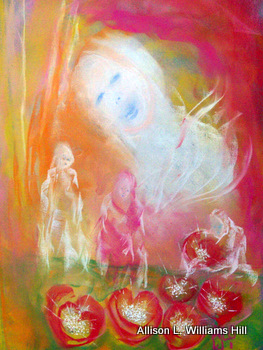 "...and the hearts became roses filled with diamond seeds." by Allison L. Williams Hill




Above is the first of a series of videos produced by Beth, creator of the Tree of Knowledge of Good and Evil. I met Beth and her good works at Spiritual Networks.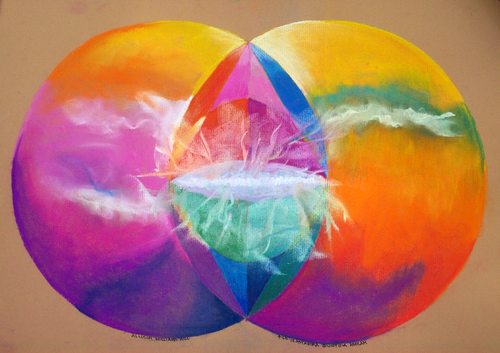 Get your free download of the Sacred Geometry Healing Mandala by Allison L. Williams Hill above by clicking here.


See other informative web sites and blogs:
In-Vesica Metaphysical Services and Spiritual Art "Do All Things In-Vesica"
L5 Design "Architecture is an extension of the human body."
Thumb Print and Thumb Print Too Art Clothing Objects "…as genuine as your own." Since 1977
Full Spectrum Living Health Coach Services "Live fully…live well."
Creative Caregiving Notes and information on giving to Cared Fors and Self
Now Is the Time for the Knowledge of the Chakra System to Come to the Planet
Living Altars
Body Custodian Body Custodian explores what the internal systems look like as a result of habits.
Nawty Notes (Adult web site) Spicy, Heady Turn-ons; Use the Mind to get to the Heart.
FourTold blog
Inner Eden blog
Hill International Group "Quality Flexibility Service"
"100 Customers in 100 Days Webinar" Reserve your place to watch the "How to Get 100 Customers in 100 Days" webinar.


Allison Williams Hill is a Local Internet Marketing Advisor. With DotComSecrets, she is able to apply information to our sites above and to assist others to maximize their presence, online or offline, to attract more customers.

Click Here for "2012 Contact"!



Useful Resources

Meditation Techniques Guide
Meditation Techniques Guide offers in-depth knowledge of Meditation and a large collection of meditation techniques that help to reduce stress, achieve mental peace and tranquility, and a total self-transformation.



Personal Growth from SelfGrowth.com-- SelfGrowth.com is the most complete guide to information about Personal Growth on the Internet.

SelfGrowth.com is the most complete guide to information about Self -Improvement, Personal Growth and Self Help on the Internet. It is designed to be an organized directory, with articles and references to thousands of other Web Sites on the World Wide Web.

Creative Imagination
Read why the creative imagination is fundamental to success.


Learning Strategies offers dynamic mind/body/spirit technologies to help you change your life.

All designs and art, unless otherwise noted, are the property of Allison L. Williams Hill and all rights are reserved. No image may be reproduced without the expressed written permission of the artist.