Energy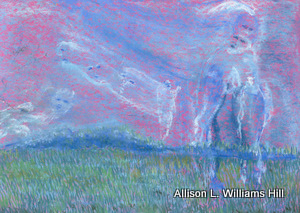 Tree Guardian by Allison L. Williams Hill


All is energy. All is vibration.
I was riding a Stream of Consciousness, one state of Being after another, feeling freedom and solitude, any state I wished to feel. I changed into whatever I wanted to experience - shape, form, magnitude. I became smoother, the shapes enlarged.

I was in a space ship in a fish bowl-like container. I looked up into the "face" of an energy who smiled, extended a hand, and lifted me out. As we swirled and merged, we separated. Then there were three.
I felt wonderful feelings of joy at union but also deep feelings of anticipated abandonment. I felt sorrow after short-lived joy. I was not happy to have had after it ended.

I saw a terrestrial forest. I was swift, low, jumping over, crouching under. I ran up a hill, my senses were extremely sharp. I saw a full moon. I howled long and deep through my body. I cried for my other, to find him.
Meditation, August 2008


Energy and the Body
Chakras
Chakra Energy Channels
Chakra Formation
Minor Chakras
Chakra Health
Thought
Conscious Life Change
In the Column of Light, We represent the consciousness of the Cosmos.
A White haired being nodded and smiled. He showed me how to create. He created with me and others joined.
I saw cities we contributed to. I saw parts of Earth they contributed to.
Rings in water joined us. All vibrating into each other. We are They. Even ones we never see, are a part of this, all creating, contributing with us.
We are One, always have been. The white haired being communicated: "None of You were ever apart or separated. You have a small idea now of the connectedness that permeates the Cosmos."
How do I know who/what/where-? All of this resides in the heart, the center of power. Love others; know of You. How? There are many degrees of knowing. Physical or not- there is no separation.


---

The first Image was white, white as the Light. I was in a snow mountain range. My partner's golden sky flowed down onto the snow coating it with bright sunlight.
This was a very spiritual and holy place. God was here. A golden path lead to a door, over which a plaque said "Heal Thyself."
Behind the door was an opalescent being who greeted me for my energetic appointment. This being, in a robe of many beautiful folds, held my hand. We communicated beautifully.
I moved to a small plate, and the chakras visibly lit and the body was painted.
A Merkabah was ahead. After painting, I stepped into it. It reduced in size and moved into my heart chakra.
I thanked my friend telepathically. I was reminded that this was always here for nourishment.
I was in a hospital. Rather than see pain and suffering I saw the opportunity to energize- not so much to animate the ill but to wake them up to their true selves. I was understanding of their different levels of awareness. I had the patience to accept where they are.
My partner saw a Violet Flame working here. I helped to expand it.
I was in an apartment conversation. This was connected to one of the hospital patients.
I was brilliant, floating in space in front of a huge white yellow sun. I merged and heard all of Spirit within. All were aware, full of gratitude, sharing ideas, drawing from our beginning to the future.
I separated carrying everything within me from the sphere. I knew and was aware of all.
My gratitude, Love and thanks amplified the energy in my physical body.
Meditation, August 2008


Please Share Your Meditation
The Universe exists within each of us. What meditation has made a difference for you?
The Solfeggio Sounds frequencies were often used in Gregorian Chants. Click Here to Learn More!

Create products for your own spa experience.Click Here!
Blood Type Food Colors Chart Downloads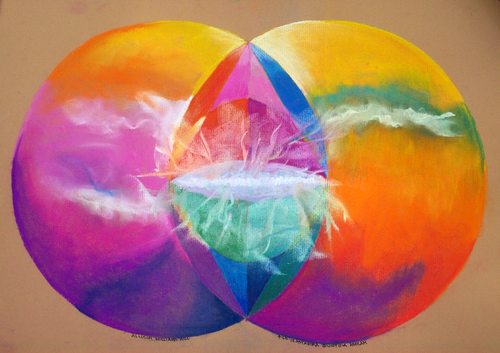 Get your free download of the Sacred Geometry Healing Mandala by Allison L. Williams Hill above by clicking here.

See other informative web sites and blogs:
In-Vesica Metaphysical Services and Spiritual Art "Do All Things In-Vesica" L5 Design "Architecture is an extension of the human body."
Thumb Print and Thumb Print Too Art Clothing Objects "…as genuine as your own." Since 1977
Full Spectrum Living Health Coach Services "Live fully…live well."
Creative Caregiving Notes and information on giving to Cared Fors and Self
Now Is the Time for the Knowledge of the Chakra System to Come to the Planet
Living Altars
Body Custodian Body Custodian explores what the internal systems look like as a result of habits.
Nawty Notes (Adult web site) Spicy, Heady Turn-ons; Use the Mind to get to the Heart.
FourTold blog
Inner Eden blog
Hill International Group "Quality Flexibility Service"
"100 Customers in 100 Days Webinar" Reserve your place to watch the "How to Get 100 Customers in 100 Days" webinar. Allison Williams Hill is a Local Internet Marketing Advisor. With DotComSecrets, she is able to apply information to our sites above and to assist others to maximize their presence, online or offline, to attract more customers.

Click Here for "2012 Contact"!
Return to the Art Gallery