Helpful friends
by TANG BROS
(PHNOM PENH CITY)
In a good friend people whom need to be made in their life to have a good relationship. Now I want to know about a helpful friends. What was the helpful friends? What Kind their characteristics of a helpful friends?
That is my request as possible for knowing and easy to find a good friends
Thank you!

Hello!
Apologies for the untimely response. I learned about all of the altruistic activities of the people mentioned, with the exception of my aunt, before they became friends. Their work to improve themselves and the planet aligned with what I was doing and wanted to do. Their actions are expansive and help to change the overall energy of EVERYTHING. Whether you, on the other side of the planet know it, they are contributing to the world. Do you know people like that? Do you have friends like that? Consider this a criterion. If you can think of others, please share them for others to think about who are the helpful friends/earth angels in their lives.
Join in and write your own page! It's easy to do. How? Simply click here to return to Helpful Friends Earth Angels.
I met an African-American artist when he was teaching seniors at the James A. Bland Houses community center where we lived.
I would play with friends and other children and then go into the room and watched skilled elders use oils
to paint the still life of fruits and flowers or other arrangements.  I looked at the arrangement. their faces, and the
path of the brush from the pallette to the canvas.
I observed for a couple of years before I got up the courage to bring in a portrait of a woman.  This artist shared his wisdom
about color- how hair and skin have more than one color.  The woman's face began to move out beyond the page with 3 dimensional
quality.   I realized how flat it was before.
I don't remember the artist's name.  I am still researching to find it.
In that time, I accepted art supplies from Mr. Alleyne, my 8th grade Spanish teacher who thought it would help me improve my grade
and a shop teacher who made a gift of a box of pastels and to whom I promised to write.  I kept neither of those agreements.
I created art for the Spanish teacher but he never saw them.  I thought they were not good enough and discarded them in the incinerator.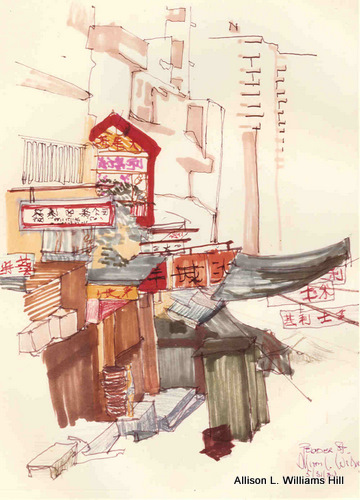 Links to Art and Color
Art
Entura Art
Color Healing
Soul Life Reading
Energy Reading
Still More Gifts

From lessons my mother purchased for me from the Famous Artists School, 
traveling to Jamaica, New York for six Saturdays with my friend Karen Dixon who gave her time to be my traveling
companion and busied herself while I attended art classes for which I will always be grateful; attending the
High School of Art and Design; my major at Pratt Institute,  and later, at Delphi University, taking Entura Art
with Patricia Hayes brought the love of art full circle, all contributed to what I do today