Psychic Services
I experienced the Entura art method with Patricia Hayes, founder of Delphi University and Spiritual Center, Entura means "enter the aura", the ability to represent an individual's energy with images and interpret them for investigative purposes. One of the psychic services uses this to represent information.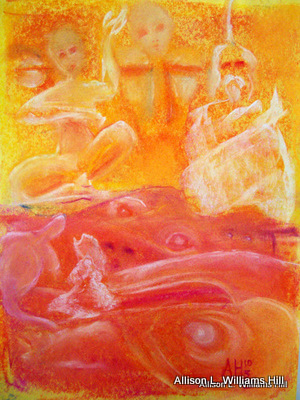 Ascension by Allison L. Williams Hill

The image above began after asking a question within the energy. After drawing the eyes one at a time, I realized they were the eyes of an animal, a dog perhaps, when it was completed. A face became its nose. An upside down fish is attempting to consume a kneeling,crying woman. There are more faces between the two seated beings above and parts of faces such as the eye in the upper left corner.
One can enter energy for a question, a thought, or just a word as inspiration. When the image is completed, it forms a Spiritual response to the query providing information that stimulates more thought. A client does not have to ask a question or be present for results.
Create Video for your articles with voiceover, animations, all the graphics and submit it to 17+ top video sites in 3 minutes flat


Entura art is offered for Past Life information, a Soul Life Reading, to represent channeled information. The image is developed in soft pastel. It can be used for mediation purposes. Framed, it is suggested that it is placed in an area identified using a Ba Gua that complements its energy.
For an art work question, a name and age would be required. This piece of work requires at least one to three hours to create. Art work fee is $85.00.
To view other images, go to Art.
---
Resources:

My Psychic Advice
This link takes you to a website for psychic, tarot, psychic readings, psychic reading, astrology, horoscopes, palm reading, palmistry, numerology, paranormal, palmistry, zodiac signs for dating, relationships, marriage and love advice.

Learn how to focus your own psychic abilities, do your own free readings, and make positive changes in your life.

Allison Williams Hill has submitted several articles, one of which is "What is Entura Art?"
The Solfeggio Sounds frequencies were often used in Gregorian Chants. Click Here to Learn More!


Create products for your own spa experience.Click Here!
Blood Type Food Colors Chart Downloads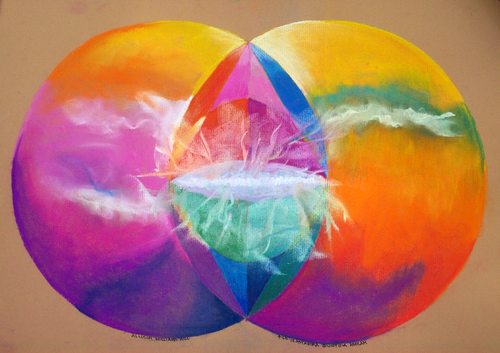 Get your free download of the Sacred Geometry Healing Mandala by Allison L. Williams Hill above by clicking here.