In-Vesica
Beginnings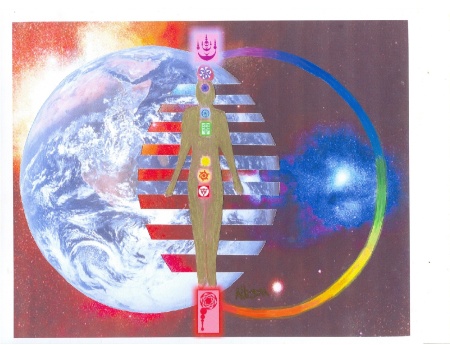 Healer In-Vesica mixed media collage by Allison L. Williams Hill
The beginnings of understanding and communing with Spirit in-vesica move us to our origin but, in this world, feels like a strange state. Being lead in faith is not a lesson most of us receive while we are impressionable.
When we step over the threshold after trusting that which is unseen, a tremendous load of skepticism, distrust, and uncertainty lifts. We feel lighter.
Vesica Piscis is the geometric term for two circles intersecting each circle's center. The medium, psychic, and healer merges with Spirit within this space of feminine energy.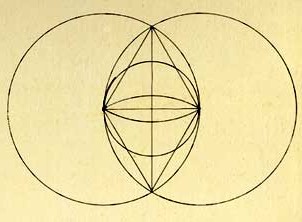 It is within that space where a
medium is receptive to all kinds of knowledge and gathers information; a psychic "sees" any existence past, present or future, and a healer administers energy to a being in need.


River II by Allison L. Williams Hill
A medium bridges the physical world and the spiritual world, the seen and the unseen. A medium can serve as a go- between for the incarnate and the dis-incarnate. A medium can convey information from those who have crossed over. One of the few differences between them and ourselves is the absence of a physical body.
The books above are only some of what I've come across over the years. I recommend for those exploring their abilities, to read as much as you can, wherever you are guided.

Imagine feeling a total body garment that warms but does not heat, that touches every square inch of skin but does not confine, that conveys thought and knowing, absolutely knowing, that there is more to you than you can touch of your body. That is how the presence of Spirit is perceived to this healer. That is also the feeling of being
in-vesica. One expands beyond the limits of one's physical nature.

With Krishna by Allison L. Williams Hill

A psychic is sensitive to subtle vibrations. Sounds, messages are heard and/or felt, however, not in the same manner as receiving sound waves using the auditory system. One is accessing lesser used senses beyond the five commonly used. I see images beyond my eyes. I see people speaking without hearing yet I understand the words.

Healing is a correction. Our natural state is good health, atonement. A healer corrects within the mental, emotional, spiritual, to improve the physical body.

Disharmony in the etheric layers descends into the gross physical and may manifest as disease. There are situations where applying only energy may correct the project. In other cases, surgery and/or pharmaceuticals may be required.
A balanced healing system would embrace both allopathic and non-invasive methods. And the ultimate, of which we are capable, is understanding how energy works and applying it to reduce or eliminate the need for external intervention.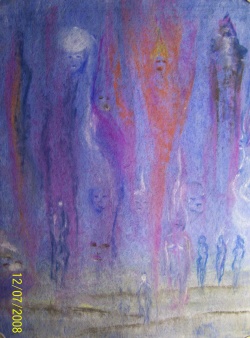 Feminine Energy by Allison L. Williams Hill

A healer can be gifted in affecting some or all of the bodies. The gross physical manifests that which developed in the spiritual, created by the emotional and mental bodies.

A medium, psychic, and healer's work is only effective with a client's understanding of the need and desire to participate. And as one consciously or unconsciously used many years to "coat the irritation" the layers are peeled away to reveal the cause. The changes that take place after the exposure are truly amazing. It takes time, varying amounts of it. That is where the commitment comes in. The client commits to his or her wellness process and that requires the client to work.
It is fascinating how all of this works. There are Dark Nights of the Soul. I think there are two types. For healers: the changes one goes through acknowledging insecurities. Healers learn how not to be invested in the process. The client requesting help can do anything with the energy he or she feels. The healer has no control over this. For those being healed: the emotions that rise to the surface and the memories to which they are connected, the potential to suppress what is taking place and whether the process is working, or even if there will ever be a change.
There is no magic wand. But the spark from the realization shatters, even blazes through, the darkness. You might even be grateful for the struggle because it increases the appreciation for the gift and the beauty of life.


Please visit my blog, FourTold.
Energy
The power, the fuel of our existence incarnate or dis-incarnate. "I will see it when I believe it."

Medium Services
Sensed information during readings to help with one's ability to move forward and deepen one's understanding.

Psychic Services
Art work that represents information requested, a message for the seeker.

Healer Services
Spiritual healing to help client during their process.

Energy and Design
Psycho-ecological design is the process of applying energetically obtained information to develop interiors,homes, or spaces that conform to the user.

Psychic Art
Using a meditation method called "Entura" and color produces interesting graphics and interpretation.

Soul Life Reading
A client can get a lot of information from this reading. It is a thorough narration of some of the client's experiences.

Energy Life Reading
This reading should remove some of the fear of greatness. We have come to fulfill a Plan to which we agreed. Every single individual of God's creation was presented with the tools to carry out the Plan. It is done. Realize and then actualize.

Sound and Color Healing
The etheric body receives energy to balance its energy and, in turn, balance the physical and other bodies of the being. Sound is applied using voice and tuning forks. Color is visualized and "sent" to where it is required.

Past Life Regression
This subject is probably the most familiar of all spiritual studies. Mediums, psychics, and healers become adept to the point where they experience what the client is experiencing.
See other informative web sites and blogs:
L5 Design "Architecture is an extension of the human body."
Thumb Print and Thumb Print Too Art Clothing Objects "…as genuine as your own." Since 1977
Full Spectrum Living Health Coach Services "Live fully…live well."
Creative Caregiving Notes and information on giving to Cared Fors and Self
Now Is the Time for the Knowledge of the Chakra System to Come to the Planet
Living Altars
Body Custodian Body Custodian explores what the internal systems look like as a result of habits.
Nawty Notes (Adult web site) Spicy, Heady Turn-ons; Use the Mind to get to the Heart.
FourTold blog
Inner Eden blog
Hill International Group "Quality Flexibility Service"
"100 Customers in 100 Days Webinar" Reserve your place to watch the "How to Get 100 Customers in 100 Days" webinar. Allison Williams Hill is a Local Internet Marketing Advisor. With DotComSecrets, she is able to apply information to our sites above and to assist others to maximize their presence, online or offline, to attract more customers.

Click Here for "2012 Contact"!



Creative Imagination
Read why the creative imagination is fundamental to success.