Helpful Friends Earth Angels
Mr. Clive Petrovic
I consider Clive Petrovic one of the Helpful Friends and Earth Angels.
The BVI government asked Clive, environmentalist, marine biologist and scuba diver instructor, to set the marine studies curriculum for HLS Community College. In 1993, he became the head of the Centre for Applied Marine Studies department for twelve years. Clive created a conference at HLSCC that included recognized scientists including Jean Michel Cousteau.
Black Hat Sect feng shui uses "cures" to improve negative situations. One of the areas of the bagua is called
"Helpful Friends Earth Angels".
It is located, in relation to the door or entry, in the far right corner of a space or area. Placing objects in this area and using the power of intention, strengthens energy for the presence of loving, caring people. Clive, Helpful Friend, Earth Angel is a friend of all bodies of water and all that lives within them.
I met Clive, at the college. The Applied Marine Biology Building pictured here is adjacent to the boardwalk project he developed that takes one through Paraquita Bay Lagoon's mangrove ecosystem, home to a fascinating environment of terrestrial and marine wildlife.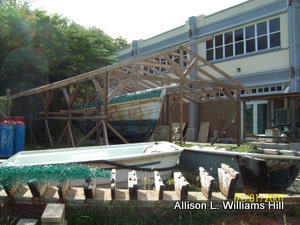 The nature boardwalk through the mangroves brings you up close and personal to what I call the forefront defense against hurricane force winds.
While working on the college's master plan, I learned from Dr. Lianna Jarecki that mangroves provide protection for spawning fish from predators allowing BV Islanders to support their diet with such varieties as Old Wife, Nurse, Parrot, Hard Nose, and Doctor fish.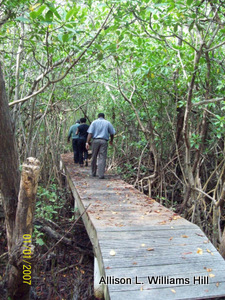 To be continued...

Crabs eat the fallen mangrove leaves for the tannin which is harmless them. Their waste is changed by the bacteria into nutrients. The nutrients are carried by the tide to animals that eat it, namely algae and coral.
Crab mortality has diminished. In November 2003, a tropical storm event left several areas of Tortola under 6 feet of water. This system brought rain only, no hurricane force winds. It took 4 hours to reach the college from the Administration Complex which usually takes 10 minutes. Later, culverts were constructed to improve drainage from the land to the lagoon. The crabs began using the culverts instead of crossing Blackburne Highway.
It is a wildlife habitat for several species of birds, some of which are migratory, that nest among the branches.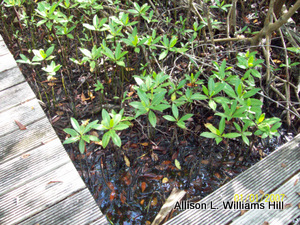 Being this close to an ecosystem of such importance where one can get a better sense of what actually goes on within a mangroves system, puts one in touch with how essential they are.
Dr. Jarecki's study from 1959 to 2000 showed that more than 50% of the coastal systems were destroyed leaving the shore more vulnerable to tropical force events.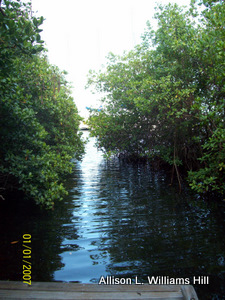 The lagoon is located at the base of an alluvium collecting some of the 3 million gallons of runoff from an approximately 800 acre watershed.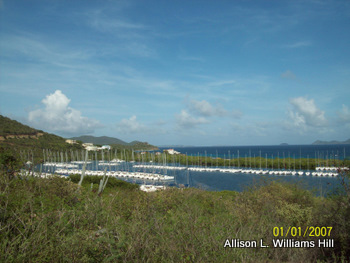 Above is a view of the lagoon, a designated hurricane shelter for marine vessels, managed by the Department of Disaster Management.


Thanks, Clive for creating this access into a least known part of the islands. This is a beautiful and tranquil living classroom with so much to learn and to understand.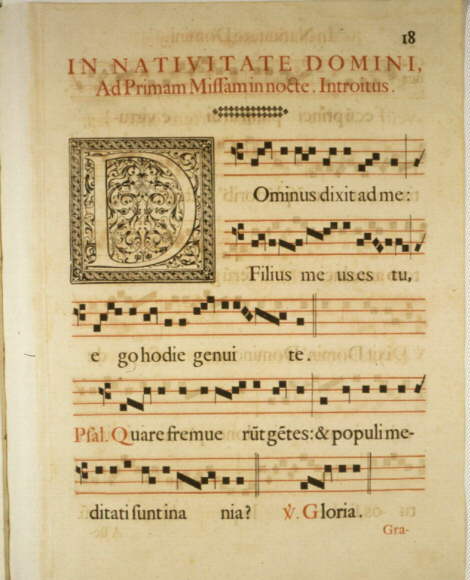 The Solfeggio Sounds frequencies were often used in Gregorian Chants. Click Here to Learn More!


Create products for your own spa experience.Click Here!
Blood Type Food Colors Chart Downloads
Get a Food Color Chart For Free!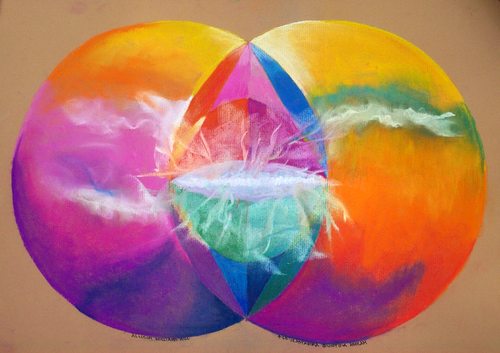 Get your free download of the Sacred Geometry Healing Mandala by Allison L. Williams Hill above by clicking here.


See other informative web sites and blogs:
L5 Design "Architecture is an extension of the human body."
Thumb Print and Thumb Print Too Art Clothing Objects "…as genuine as your own." Since 1977
Full Spectrum Living Health Coach Services "Live fully…live well."
Creative Caregiving Notes and information on giving to Cared Fors and Self
Now Is the Time for the Knowledge of the Chakra System to Come to the Planet
Living Altars
Body Custodian Body Custodian explores what the internal systems look like as a result of habits.
Nawty Notes (Adult web site) Spicy, Heady Turn-ons; Use the Mind to get to the Heart.
FourTold blog
Inner Eden blog
Hill International Group "Quality Flexibility Service"
"100 Customers in 100 Days Webinar" Reserve your place to watch the "How to Get 100 Customers in 100 Days" webinar. Allison Williams Hill is a Local Internet Marketing Advisor. With DotComSecrets, she is able to apply information to our sites above and to assist others to maximize their presence, online or offline, to attract more customers.

Click Here for "2012 Contact"!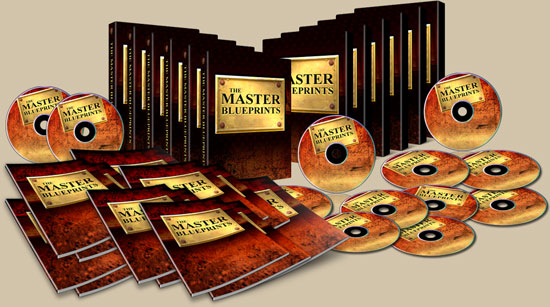 Creative Imagination
Read why the creative imagination is fundamental to success.
Return to the Art Gallery
Home Herbs of the British Virgin Islands Environment Feng Shui Earth Energy Water Theodor Schwenk Viktor Schauberger Products Links Contact